Michael McDonald
Butts N Donuts Owner & Trainer
Mike McDonald is a passionate advocate for holistic health and fitness, dedicated to transforming lives from the inside out. As the founder, owner, and head trainer of Butts N Donuts, a renowned personal training company, Mike has cultivated a reputation as an influential figure in the industry. His journey has been marked by a profound evolution in training styles and perspectives on health and fitness.
Originally, Mike's focus was primarily on glute training, helping countless clients achieve remarkable physical transformations. However, it became evident to him that despite their newfound physical beauty, many individuals still harbored deep-seated dissatisfaction with themselves and their bodies. This realization sparked a paradigm shift, propelling Mike towards a more holistic approach that encompassed not just physical workouts and aesthetics, but a deep understanding of the mind-body connection.
Mike firmly believes that health is not merely a matter of appearance, but a profound feeling that stems from self-acceptance and inner well-being. His mission is to revolutionize the way health and fitness are perceived, by emphasizing the transformative power of mindfulness and mental wellness. By helping clients cultivate a positive self-image, embrace self-love, and overcome internal struggles, Mike aims to empower individuals to lead fulfilling, healthy lives.
His unique approach combines mindfulness practices, breathwork, movement, nourishment, and personal growth integration, which are the 4 Pillars of Butts N Donuts, fostering a holistic transformation that extends far beyond the physical realm. Mike's vision is to inspire his clients to listen to their bodies, nourish their souls, and prioritize self-care in order to achieve true well-being.
With a track record of successfully guiding clients towards a healthier and more fulfilling lifestyle, Mike McDonald is a respected mentor, motivator, and catalyst for change. Through his compassionate guidance, he aims to create a world where individuals not only appreciate their external appearances but also embrace their true selves, realizing that genuine health stems from a harmonious interplay between mind, body, and spirit.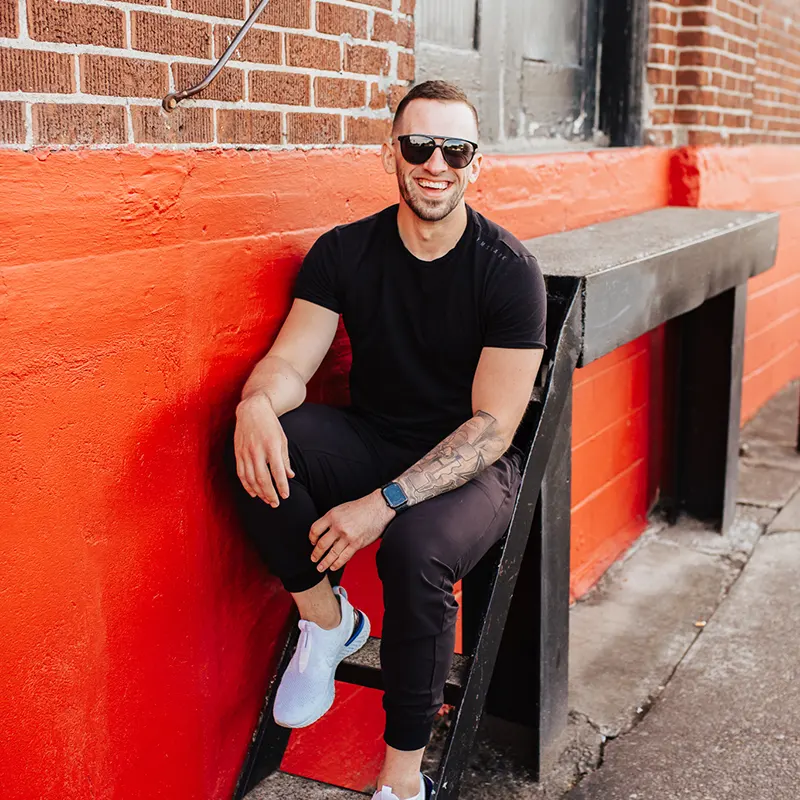 Luke Petrich
NASM Certified Trainer
Luke's inspiring journey started when he was labeled as the chubby kid growing up, accompanied by an unhealthy relationship with food up until his mid-20's. He consistently fell into the trap of emotional eating and didn't realize his own habits till a friend challenged him. This started his time in the gym. For the first few years he followed the common workouts of those around him but had very little focus on nutrition.
This all transformed when he met his current coach, Ocean. Through his training he gained more knowledge in the fundamentals of macros and how to properly track your food. In one year's time, he developed healthier habits, learned how to properly fuel his body, resulting in a transformation not only physically but mentally inspiring him to further his fitness career.
On his journey in 2019, he became a spin instructor. The energy from the community and workout was unbelievable. Knowing that he had already accomplished so many goals, he took a big leap in August of 2020, nervously moving to Arizona not knowing many people but ready to join the extensive fitness scene to start coaching after seeing the positive change fitness brought to his life.
Upon attending a coaching conference he met Mike, who shared the Butts N Donuts mission that aligned with his coaching philosophies and perspective. Luke has now expanded his online coaching to in-person as he shares the mission of revolutionizing the way health and fitness are perceived.Luke believes in helping his clients develop more than just the "look" of fitness but working on the deeper more transformative power of mindfulness, intention to find the natural balance of having fitness be a feeling not just a look.